The contest is closed.
Entry Requirements
Who?

Anyone, anywhere in the world in high school or equivalent (secondary school, etc.)

What?

You should write an essay between 1000 and 2000 words. We are less concerned about the length so much as the depth and originality of the content.

When is the deadline?

All entries must be submitted before 11:59 PM in your local timezone on October 17, 2023.
Not sure if you satisfy those requirements? Reach out at support@pivotalcontest.org.
Key dates
Contest opens
The contest opens for submissions, we recommend you enter the contest (register on the submission portal) as soon as possible to prevent any last minute issues.
Submission deadline
All essays must be submitted online by 11:59 p.m on October 17, 2023 in your local time zone.
Results announced
We will contact everyone who sent an essay with their results.
Questions
To participate, write one essay, in English, answering one of the questions below.
#1

Ethics

Should people who care about the long-term future focus on reducing the risk of human extinction, or instead on trying to make the world go better in futures where humanity survives a long time?

#2

Policy

What is a policy that today's governments can implement to greater consider the interests of future generations?

#3

Artificial Intelligence

Suggest and explain one function that a national or international agency could perform to mitigate the existential risks from advanced artificial intelligence.
Resources
It's sometimes daunting to know where to start.
Especially because our questions are probably different to what you have previously studied.
We have prepared general introductory resources for the contest and in-depth academic resources for each question.
Highlighted resource:
What We Owe The Future
What We Owe The Future, from Prof. William MacAskill, presents new ideas and ways to look at humanity's future, it is one source among many that you may find helpful for your research; you don't need to agree with the author's ideas.
If you decide to read it and need financial support, you can apply for a free book.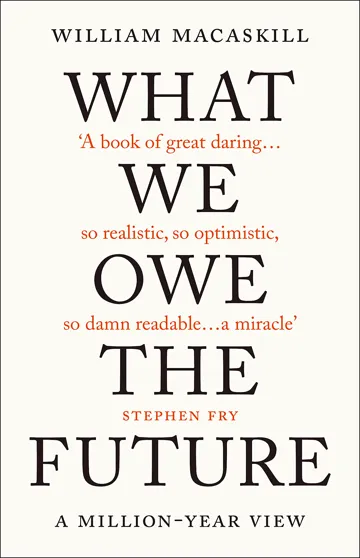 What we look for in an essay
Depth of knowledge

You are not expected to be an expert on the subject, far from it. But you should demonstrate that you have done your research and that you have a good understanding of the topic at hand.

Writing style

You do not need to be a professional writer, but you should express your ideas clearly and concisely. You should also structure your essay in a way that makes it easy to follow.

Originality of the argument

If you are not sure whether your argument is original enough, here are

some

indicators that it might be:

You have identified a gap in the existing discourse and filled it with your unique perspective.

You have taken an unpopular stance, yet your argument is well-founded and thought-provoking.

You combined knowledge and methodologies from different disciplines.

Depth and quality of your analysis

We want you to see whether you have engaged critically with the most relevant work in the field, and how well you have used evidence and logic reasoning to support your arguments or proposals.
Formatting and citation style
We do not impose strict rules on formatting. If having guidelines would help, we recommend following the Chicago Style, here's a detailed guide.
Academic Integrity
As with all essay contests, we have strict policies against plagiarism, including from Large Language Models like ChatGPT. We reserve the right to investigate and disqualify any essay that we suspect of plagiarism.
We are looking for academic integrity and originality in your essays. Text generators will not help you with that.
Next Steps
If you have more questions, check out our FAQs.
You can subscribe below to receive content from our examiners about what makes for a winning essay and reminders about the deadline:
Once you enter the contest, you could: